About Us
McMahon Burnett Transport is a privately owned Western Australian Company. General Manager Santo Guagliardo has been involved in the Transport industry for over 30 years, starting with his father in the north west of Western Australia in the 1960's as a driver and progressing to now owning one of the most innovative Transport Companies in Western Australia.
The evolution of the business to its current form, McMahon Burnett Transport, has happened through good management skills, a dedicated staff and a devotion to customers' needs.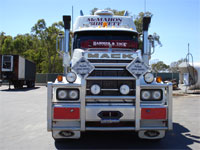 McMahon Burnett Transport services customers throughout the State of Western Australia and has depots in Kalgoorlie, Onslow, Cue, Mt Magnet, Laverton, Leonora, Wiluna and Leinster; with a fleet of vehicles numbering 53, ranging from 8 tonne to 125 tonne road trains including low loaders. We also offer Hot Shot Services to complement the above..
We are totally committed to Occupational Health and Safety and to that end continually train our personnel to the highest standards.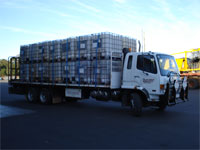 We are committed to ISO 9001 as we progress towards accreditation.
McMahon Burnett Transport has a commitment to the individual needs of each of our customers. We work closely with our customers to ensure they experience close attention to detail. We work diligently and honestly in all our dealings and we commit to provide the most cost effective management of your transport needs.